Ready to repair your iPad or tablet? Versatile Mobile Systems has you covered.
iPad and Tablet Repair by Versatile Mobile Systems
We are ready to help you repair your iPad and / or tablet. We fix everything – from cracked screens to busted charge ports. Our expert technicians have been repairing enterprise mobile technology for over 20 years. We are here to help you!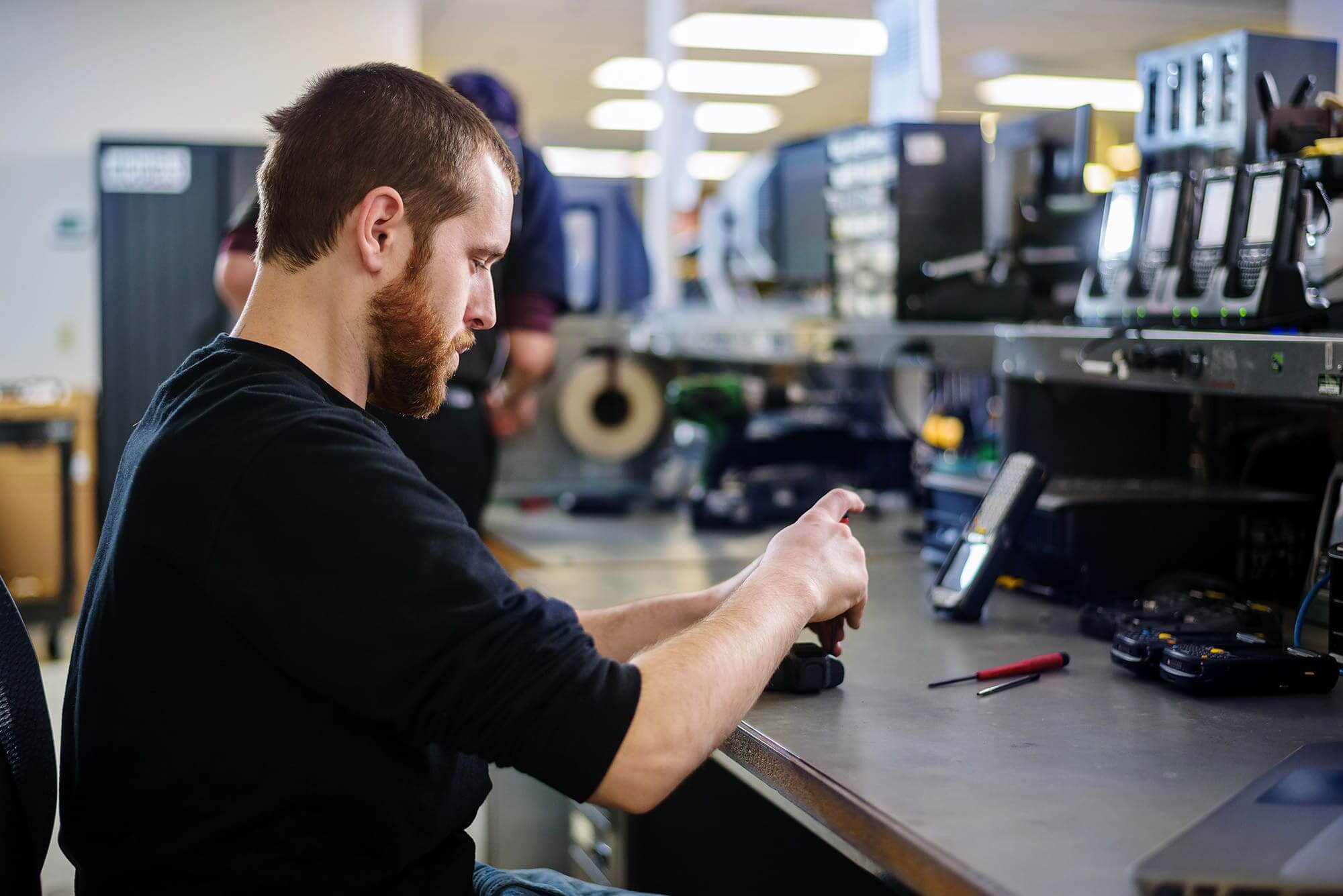 Let's get started!
Repairs with VMS are easy. Here's the process:
Contact us below.
Send us your tablet.
We'll identify the issues and keep you posted along the way.
Once repaired, we'll ship back out to you!
Pricing starts at just $99 for your iPad repair!
Pricing starts at $99 and then, depending on model number and/or severity of the repair, it may increase from there. Our expert technicians and staff understand how frustrating this process can be, so we will always be transparent about pricing. When you call in or fill out our form, we will get you the right quote.
Your Satisfaction is Our Priority – 90-Day Warranties on iPad Repairs
Our 90-day warranty on repair includes manufacturer defects on parts used and craftsmanship. The warranty excludes physical damage, water damage, and general abuse.
We'll fix your iPad for you!
Please fill out this form to get started or call us 1-800-262-1633!
You have questions; we have answers!
FAQs
What type of tablets do you repair?
Apple® iPad 2, iPad 3, iPad 4, iPad 5, iPad 6
Apple® Ipad Pro 9.7″ and 12.9″
What types of repairs can we service?
We can replace a cracked screen, replace a battery, repair the charge port, or replace the home button on a tablet.
Why should I trust Versatile Mobile Systems?
We have been in the business of mobile technology for over 20 years. We've seen it all and repaired it all. We'll be honest with you along the way and use only the best parts. Our expert technicians work in our office and are here to make sure you're happy with the results.
Will I need to provide my passcode?
For full testing, we will need your passcode. If you do not wish to provide, we can still help you with a partial testing.
What happens if I get it back and it's still not working?
We will work with you to remedy the situation and no additional cost as long as its within a 30-day window.
Where are you located?
We're right outside of Seattle in Woodinville, Washington state! With our parent company Barcoding, Inc. headquartered in Baltimore, we are able to service the entire country in time zone.